Adam M. Shapiro MD, MAS, FACS – President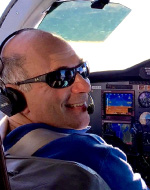 Adam Shapiro, M.D. is a Board Certified Sleep Medicine Specialist, a licensed pilot, a dedicated member of the Coast Guard Auxiliary Aviation Division and an intrepid traveler. He is board certified in both Sleep Medicine and Otolaryngology-Head and Neck Surgery and has sub-specialty experience in Aerospace Medicine. Dr. Shapiro is the founder of Aerospace Medical Sleep Consultants and has a particular interest in Human Factors and Sleep Disorders. He is also an ATP, Citation Jet rated pilot and FAA Senior Aviation Medical Examiner. He serves as an Aircraft Commander and is a former Assistant District Flight Safety Officer with the U.S. Coast Guard Auxiliary.
Upon moving to the Caribbean 17 years ago, Dr. Shapiro founded Virgin Islands Ear, Nose & Throat, P.C., the region's premier state-of-the-art otolaryngic surgical practice, with offices on St. Thomas and St. Croix, as well at the St. Thomas and Virgin Islands Sleep Centers, the territory's only AASM-accredited sleep centers. He is also hyperbaric medicine certified and is a Divers' Alert Network referral physician for the Virgin Islands.
Experience
President
Aerospace Medical Sleep Consultants, LLC
June 2015 – present. Miami, Florida and St. Thomas U.S. Virgin Islands
Aerospace Medical Sleep Consultants, LLC (AMSC) is dedicated to improving the safety and productivity of the aviation and space industries. Specializing in strategic planning and logistical support for both large and small corporations, AMSC develops fatigue reduction programs, identifies and treats employees with sleep disorders and improves the cognitive workforce health and productivity. AMSC also provides technical support and expertise to the growing commercial space flight industry. Our clients include governmental, military and domestic and international commercial entities.

Clinical Assistant Professor of Surgery
The George Washington University School of Medicine
1996 to present, Washington, D.C.
Assistant District Flight Safety Officer
United States Coast Guard Auxiliary
2015 - 2017, District 7, Airstation Borinquen

Aircraft Commander
United States Coast Guard Auxiliary
March 2014 – Present
Aircraft Commander, District 7 USCGAUX

Otolaryngologist, Head and Neck Surgeon, Sleep Medicine Specialist
Virgin Islands Ear, Nose & Throat
March 2002 – Present
St. Thomas & St. Croix, U.S. Virgin Islands
President and founding member of Virgin Islands Ear, Nose & Throat, Virgin Islands Facial Plastic Surgery, Virgin Islands Allergy Center, Virgin Islands Hearing and Balance Center and the St. Thomas Sleep Center
FAA Designated Senior Aviation Medical Examiner
FAA
January 1995 – Present

Otolaryngologist - Head & Neck and Facial Plastic Surgeon
Associates in Otolaryngology of Northern Virginia
September 1993 – February 2002. Reston and Alexandria, Virginia

Otolaryngologist - Head & Neck and Facial Plastic Surgeon
South Florida Facial Plastic Surgery Associates
September 1992 – August 1993. Hollywood, Florida